I want it now. The increasing need for real-time engagement
Social media is an essential part of any brand's online presence today, and the most common question we hear is, "How do brands keep up with consumers' growing expectation?" The truth is, as our lives speed up so does our patience.  As brands have become more engaged and attainable, our need for quick response times has grown. Goodbye is the days of customer service departments, it's now a culture.
Recent studies have shown 7 out of 8 messages to brands go unanswered within 72 hours and with consumer complaints on social media reaching 879m in 2014. It's easy to see why 51% of brands are citing real-time social media engagement as their biggest challenge for 2016. As Brands begin to recognize these changes in expectations and ensure they have the resources to handle their customers' expectations online, a fast response will lead to long-term consumer loyalty and engagement.
What are consumer's expectations?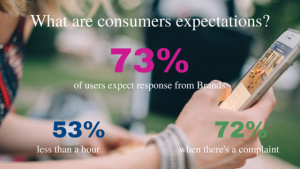 As social media departments begin to overflow with messages, they're finding themselves ill prepped to provide an exceptional customer service experience. In today's market, your competitors are just a click away, it is vital that Brands begin to tackle this problem head on.  With 73% of consumers expecting a response and 53% in less than hour, this is not an easy task. Timing is everything. If a brand can manage to adapt to this need for instant responses, they will have built the right foundation for consumer loyalty. 
However, the biggest challenge in real-time engagement is a Brand's ability to understand the level of engagement consumers expect. Social media does offer its own form of engagement but it is just that, social. While it may be possible to tag your favorite brand's CEO, it doesn't give the one-on-one interaction consumers are craving. This type of engagement can't give the customer experience or the important data analytics like a well-defined and personalized real-time engagement plan can provide.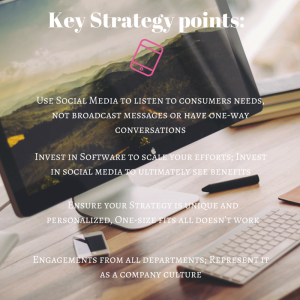 Now, back to the question "How do brands keep up with consumers' growing expectations?" Success in this new world of real-time engagement all boils down to a company's mindset. Brands need to recognize that Social Media needs to become embedded in all aspect of their company's culture. Investing the time to ensure every employee, every department is representing your brands new culture.