Your Business NEEDS a Website
A professional business website will give potential buyers and consumers the impression that there is a solid, reliable, and skillful team working behind the scenes at your company. Investing time in your website design will portray polish and expertise. It will show your buyers that you care, that you are relevant in a competitive industry, and that you take your work seriously. Here are three ways that a professional website will benefit your business:
1. A Website Connects Your Business to a Bigger, Wider Market
These days, more than 3 billion people use the internet. The majority of potential buyers are using the internet to seek out goods and services, whether through search engines or social media. The beauty of a professional business website with a strong design is that it is basically a digital brochure with round-the-clock sales staff.
2. A Website Allows You to Display Your Work
Online review sites and social media offer potential buyers ways to get to know your business better and to cultivate a virtual connection with your business. Without a website, it will be more difficult to reach out to and impress your target audience. Your website allows you to show customers what you're doing and how you're doing it, along with instant updates.
3. Without a Website, You Risk Losing Business
Customers assume that any solid and successful business will also have a website. When a company doesn't have a website, it confuses and inconveniences customers. They assume that the business isn't willing to make that investment for some reason and they will quickly find an alternative who does. Customers want to be able to identify a business online before they think about parting with their money, so an online presence helps drive traffic to your physical business.
Tip: Make Sure Your Business Website is Responsive
The internet is the go-to for getting to know a business and potential customers will rely heavily on your company's website. So all these things considered, isn't it time you got out there and grew your business?
4. A Website Helps Track Consumers
Website analytics is a wonderful tool that many companies often forget to leverage. Having a website allows you to see how traffic flows on your site and how users interact with different website features. It is also a great tool for measuring ROI on marketing campaigns.
When you are able to map the online flow of consumer traffic, you can see what works for your business and what doesn't. In addition, companies are able to see which pages have successful conversion rates and which pages need more testing! Once your team knows what pages work best for your business, you can duplicate that content on other pages.
Google Analytics is a free tool that can be installed to analyze this traffic and can provide strong insight into your website. Knowing this information can be an invaluable asset. Check out Moz's guide on everything you need to know about using and installing Google Analytics.
5. A Website is a Platform for Market Research
Your website is a great resource for consumer's to reach your business to provide product and service feedback. If a consumer feels they won't be able to reach your business quickly to resolve any issues, they may be reluctant to give your business their money.
In addition, a website is a great way to conduct market research. Consumer feedback and accessibility is beneficial for your customers, but also for your business. Many businesses put part of their marketing budget toward focus groups. If you're an entrepreneur who is starting your business via bootstrapping, you may not have the funds for focus groups.
6. A Website Builds Consumer Trust
Your website is the opportunity to show consumer's what your business is all about. This is where you can write a mission statement and show your company culture.
Your website is also a place where you can display awards and certifications to increase credibility.
Building consumer trust is especially important in industries like real estate and finance. Even small logos of your certifications like the image below will help to establish additional layers of trust that will ultimately support sales growth.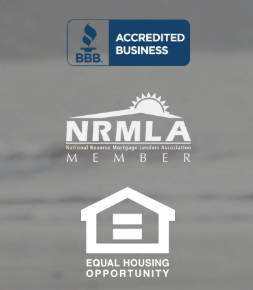 Image credit:
GoodLife Home Loans
Bonus Tip: If your website is still in the works, it's important to have a simple but informative landing page. This page should allow visitors to provide their email address so they can be notified when your site is live. This will help build an email list before the site even opens, offers important information about your services or products that builds trust, and can be a fun way to test out different CTA's and brand language!
Check out this real-world example of a coming soon landing page from Zacol, as well as this list of other great landing pages from websites under construction.
Want to check out the business websites we have created? Email us at contact@ndmr.com