3 Free Site Auditing Tools for the Beginner SEO
As a beginner SEO (and even as an avid SEO for that matter), you are always looking for a quick way to audit and dig into a given website with ease. We have all done the research and have tested out various options, but following chrome extensions are tools we often use and have found very helpful here at New Dimension, a marketing agency in San Diego. The 3 following tools do overlap in various ways, but you will notice that they may provide different results. That's why at NDMR we have always found it better to have a few sources, rather than simply relying on only one.
MozBar –
For many SEO Agencies in San Diego, the MozBar is a crowd favorite! It is your one stop shop tool to do in depth SEO research on the go. Equipped with domain authority (DA) and page authority (PA) metrics. With this awesome, you can also gather a given websites, meta description, title tags, structured data, mark up, link metrics, HTTP status, social metrics, and more – quickly and easily.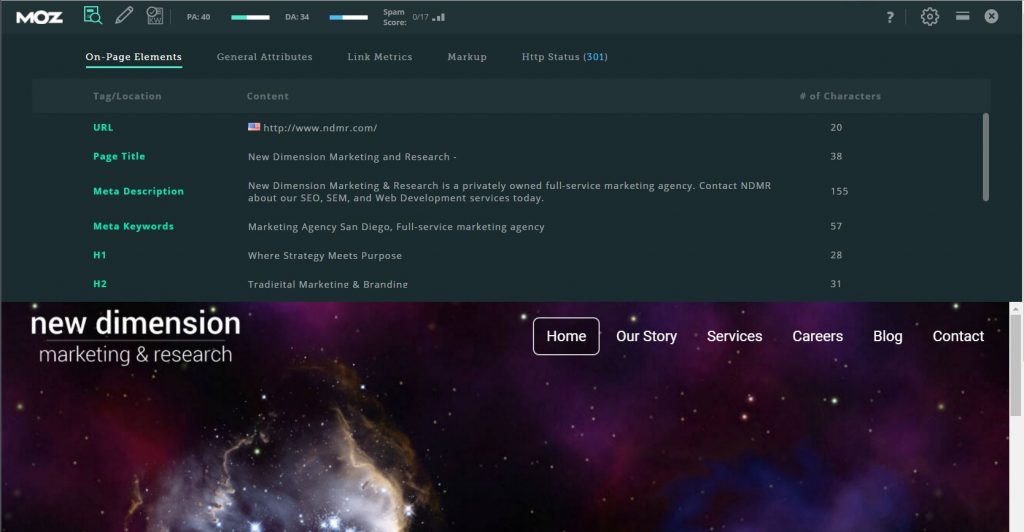 SEOquake –
SEOquake is a great tool to use for a quick SEO overview of any page at a glance. You will also be able to see the given sites search engine results page competitors' strengths and weaknesses, targeted keyword difficulty levels, as well as, external and internal links data. This is an awesome tool to manually dig a little deeper into your site analysis.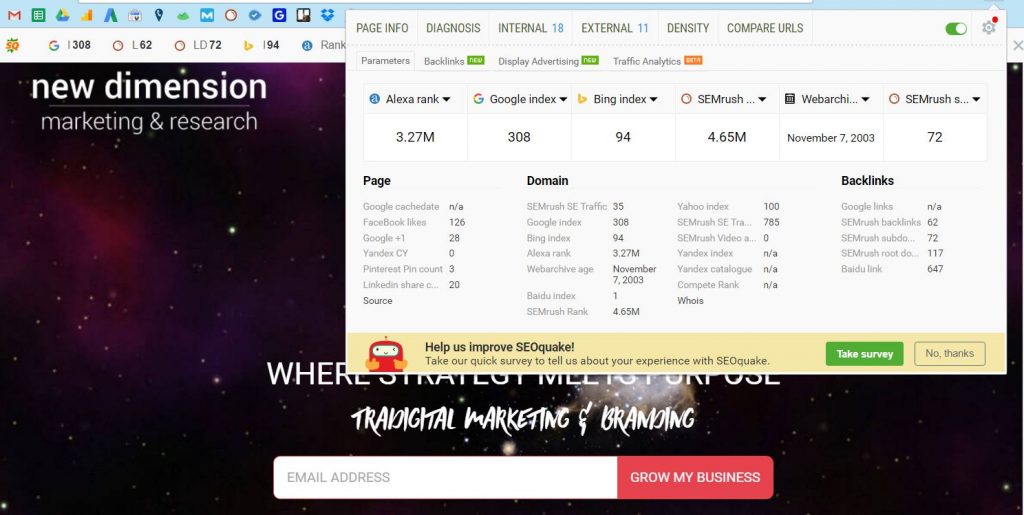 WooRank –
WooRank is an easy way to generate a high level website analysis and score. WooRank scores your website based one over 50 in depth criteria, ranging from on-page SEO aspects, to Mobile friendliness, to backlink profiles. Giving you a baseline score to strive to improve upon. This tool also extends recommendation on what you should attempt to fix and how to go about fixing it. That being said, this is a great tool to generate a quick website analysis report for a current client or to pitch a potential SEO client.
Give one, if not all of these a try and let us know which one you like best and find most helpful. Also, if you have another SEO chrome extensions tool that blows these out of the water, send it our way! We would love to try it out!