8 Time-Saving Tips for your Social Media efforts
Growing your social presence takes great time, dedication and patience. So, how do you produce quality content without sacrificing the time needed for other projects? While in an ideal world it would be great to devote hours to content, we understand that this isn't always a possibility for every business.
According to Buffer, a social media scheduling tool, the average social media user spends an average of 3.6 hours a day on social media. This makes sense when you consider the fact that social media platforms profit as a result of their addictive and time-consuming qualities. But how do you avoid scrolling through a void of flashy advertisements and entertaining memes? Lucky for you, we've compiled a list of 9 social media time-saving tips to help you prepare and stay on track.
1) Plan your social media strategy out!
They say that if you're going to cut down a tree you should spend most of your time sharpening your axe first. Your approach to building a social media strategy should be no different. Before you sit down to create content for your social media efforts, make sure you set aside time to plan ahead and sharpen your metaphorical social media axe. Then, proceed with purpose and create a clear-cut strategy. Ask yourself: "what is the purpose of your social media time management efforts?"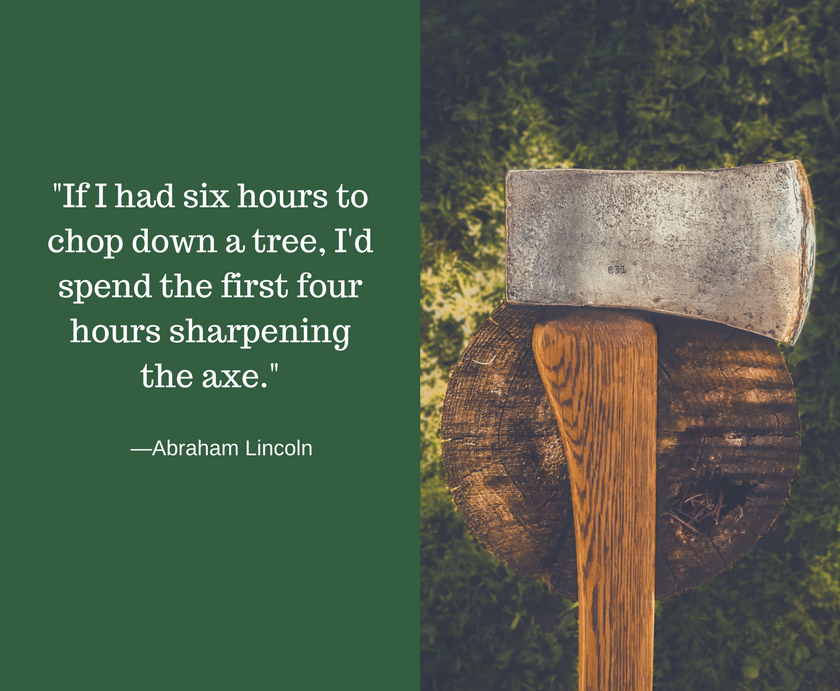 "If I had six hours to chop down a tree, I'd spend the first four hours sharpening the axe."–Abraham Lincoln
Do you hope to gain brand awareness, build a loyal community of followers or, engage with your audience and deliver quality content? Your social media strategy should address these questions and more.
Make sure your work is created with a purpose.
2) Avoid wasting time by batching your social media tasks.
Parkinson's law states that  "work expands so as to fill the time available for its completion." Sound familiar? This is why batching your tasks is essential to save time on social media.  Buffer, a social media scheduling app, writes on their blog about their own successes with batching their tasks: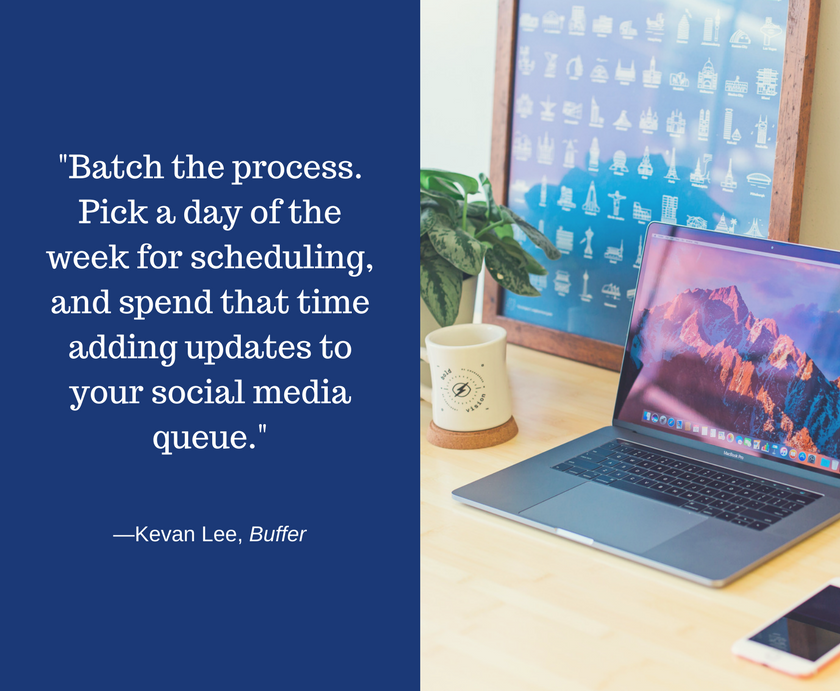 "Batch the process. Pick a day of the week for scheduling, and spend that time adding updates to your social media queue." – Kevan Lee, Buffer
Batching your tasks will make things more efficient compared to dipping in and out of your account at random times throughout the week. Aside from saving time on social media, batching your tasks will also allow for you to create and curate content more comprehensively. While it's easy to fall into creating content ad hoc, we strongly recommend against it. Set aside some time to focus only on social media without any distractions; you can thank us later.
Curate and schedule content for your social media ahead of time. Creating content can be tough in this day and age. With the growth of digital media, comes a need for greater quantities of quality content. If you find yourself overwhelmed by the speedy turnaround rate of social graphics, you're not alone. But, here's the thing, you don't have to create all your content. In fact, you should probably create only 20% of the content you publish. The other 80% of your content should be user-generated.
"The purpose of user-generated content is to humanize your brand. And with 51% of consumers trusting user-generated content over information on your brand's website, you can build better relationships with this content stream," —Alex York, Sprout Social
Alex, says it perfectly. Trust the users that want to interact with your brand and use their content to strengthen your reputation. If people are eager about your product or service, make sure you show it to other potential customers and clients.
Still confused about how user-generated content works? Here's an example from beauty brand Glossier:
If there was a brand that ever acted like the queen of social media, it would probably be Glossier. Known for their strong investment in "millennial pink," Glossier has skyrocketed to Insta-fame as one of the strongest beauty brands in America for millennial women. And while their branding may be on point, so is their dedication to interacting with their audience on social media.
Just take a look at their Instagram feed: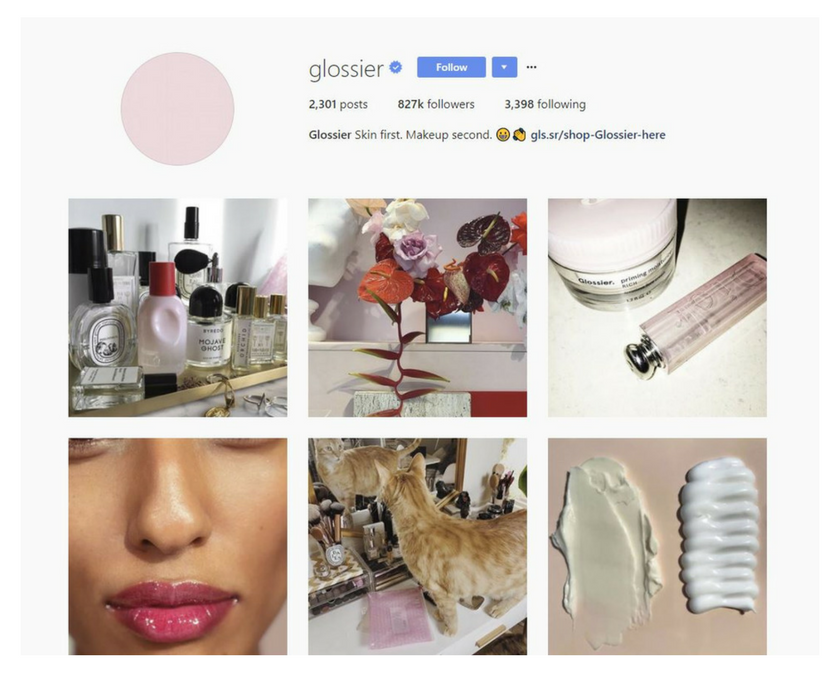 Here is an example from Glossier to show you how to use User Generated Content for Instagram.
Nestled amongst the sea of millennial pink, you'll notice that Glossier has invested time in curating content that isn't exclusively created by them. Let's take a closer look at this photo of a cat: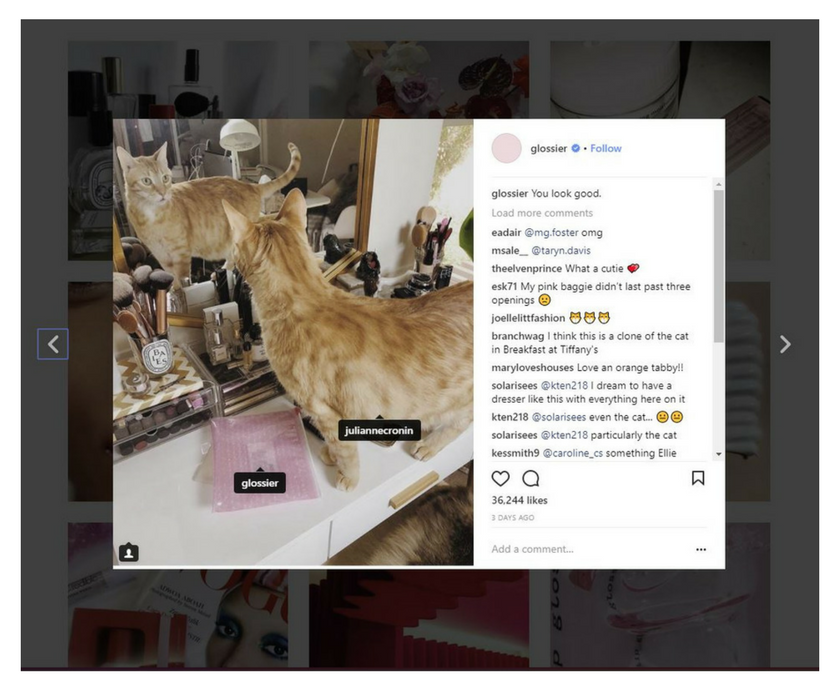 Here is a close up of User Generated Content from the Glossier Instagram Account.
As you'll see the social media manager of Glossier decided to repost a photo from one of its customers.
Pro-tip for social media managers: to get a strong pool of user-generated content, be sure to always check common hashtag typos that could be mistaken for your own.
Glossier as a company was built to address the lack of pride in women's beauty routines. Emily Weiss, the founder of Glossier, has since built out a product line that inspires transparency and ecstatic promotion of its products. Customers not only wear Glossier, they wear it proudly for the world to see on Instagram. They're brand advocates without being paid to promote.
Glossier's Instagram shows how powerful the combination of a good product and an engaging social media strategy can be. Learn from them and encourage your audience to interact with your product and share it online.
If you're a small business and you don't have the hype that Glossier has, don't worry. There are plenty of ways to encourage and entice customers to interact with your services and products. To learn more about how to find and curate user-generated content, Buffer talks about their strategy here.
3) Start Small with your social media management.  
Look, I get it. When you're excited about your social media efforts it can be easy to overwhelm yourself with a huge workload. But working hard does not equate to working smart, especially when it comes to social media marketing. Each social platform is unique and investing in the wrong platforms can be a waste of time.
If you're a lawyer looking to invest in social media, then Instagram, a visually dominant platform, probably wouldn't be the best platform to invest in. As we said above, before you get started on your social media efforts make sure you plan a strategy. And, if you're looking to work with a social media expert, make sure they tailor their work to the specific needs of your business.
We recently wrote a blog article that goes into greater detail about some of the major social media channels out there. Check back in soon to read more.
4) Share your social media content across multiple platforms.
As we've already mentioned, we strongly suggest focusing on only one or two platforms in the beginning. That said, even if you only have two social media channels, you can still share the same content across both platforms. This not only saves time but it also creates greater opportunity for your audience to interact with your content. If you've spent a few hours creating a blog post you're going to want to invest even more time in promoting it.
Let's look at an example from the Guava Family and their Travel Bassinet:

As seen above, the Guava family leverages similar imagery across Twitter & Instagram. The key here is to make each post unique! Leverage separate images (even if they come from the same photo shoot) & copy to create a cohesive cross-platform message. Posting the same content with the same copy on all of your channels is not a great strategy & will likely frustrate your loyal followers. Many of your users will likely follow you on several platforms and you don't want them to get bored!
5) Steady social media strategy wins the race.  
Ever hear of the story about the tortoise and the hare racing against each other when you were a kid? You read the story assuming you already knew that the hare would win. But, alas, we read till the end and found out that slow and steady wins the race.
The life lesson here is that a short sprint and then giving up is not how you achieve success for most things. Slow, steady, and consistent can be difficult to achieve for those seeking instant gratification. But, for social media purposes, it's key to success. If you can take anything from this blog post, I want it to be that consistency is far more useful to your social media strategy then sudden and inexplicable growth.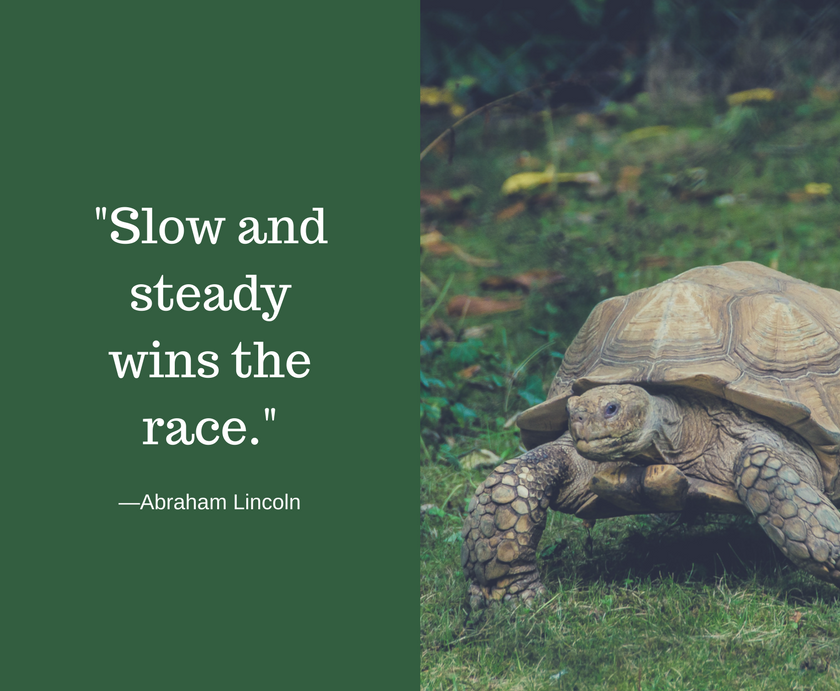 "Slow and steady wins the race." – Aesop
When you sit down to batch your tasks and create a content calendar, keep realistic expectations of what you'll be able to accomplish not just once. Make sure your plan allows for consistent posting for months to come. Posting more frequently is not always the answer. Just take a look at this study by Buffer where they talk about how posting less tripled their reach and engagement.
So what's the moral of our blog post?
Grab your coffee, take a deep breath, trust in the process and be patient.
6) Find the right social media tools.
Humans have been using tools for millions of years to make their lives easier— So why wouldn't we use them for social media time management?
A social media manager could potentially use tools that help them find, publish and track the performance of content. Using a scheduling app will allow for a social media manager to get a comprehensive view of the content before and after it's published.
If you have a low budget, we recommend at the very least investing in a tool that will help you schedule and analyze the performance of your content. If you're not sure which one to choose, we've created a blog post that compares and contrasts the most common scheduling tools for social media here.
7) Research. Research. Research.
Social media is an ever-changing marketing channel. What works today won't necessarily work tomorrow. This is why it's important to constantly keep up with what works for your industry and pivot when needed. It's easy to say things like "Instagram is the next big thing"—and it is. But, that doesn't mean it's the next big thing for your business.
Your research should be specific to the needs of your business. Don't be too quick to jump on a trend backed by vague statistics. Always ask yourself: "will putting effort into this help me meet my specific business goals?" If so, look at how it will and why.
8) Delegate tasks so you can focus on what's important.
In the mind of a social media manager, social media is integral to what we do every day. But if you're a small business owner, then social media may not be at the top of your to-do list. You have a business to run, and social media is only one part of what makes a business successful.
This isn't to take away from the importance of social media, but rather address what needs to be done by you and you alone. If you're wearing multiple hats as it is, social media can feel like the straw that breaks the camel's back.
Here at New Dimension, we're happy to take on new social media clients to make things easier for you. If you're interested in working with us, to grow your online presence, be sure to check out our services page or email us at info@ndmr.com