The Importance of Google Reviews for Local Businesses
As a society, we depend greatly on Google. When we need information, we go to Google. When we need to find another website, we go to Google. When we want to make a purchase, we go to Google. It's sort of the internet's bread and butter. In fact, every day, Google processes over 3.5 billion searches.
Knowing that, it's easy to see how a business's online presence is heavily linked to their success as a whole. Whether it be blog posts, podcasts, social media profiles, or company websites, online exposure can make or break a company. In the past few years, we've seen Google business reviews play a bigger and bigger role on whether your site gets more visibility and you get more customers. A company's Google business ratings and reviews end up influencing the consumers' decisions to engage with the company and/or purchase their produce.
What Are
Google Business Reviews
?
Google business reviews are a way for people to write public reviews of businesses they've used on the internet, where other people can view them and business can respond to them. The Google ratings and reviews provide both the business and its customer with valuable, measurable information and feedback on the customer's experience. They are presented as an overall rating (out of 5.0) and the total number of reviews and are found next to your Google Maps listing.
So why are Google business reviews so important? Well, believe it or not, all forms of online reviews have the power to influence the behavior of your consumers. For example, businesses with a rating of 4.0 or higher are, statistically, more likely to convert customers than those with lower ratings. Online reviews are a unique way for consumers to validate and justify their online purchases.
In some instances, companies have noticed that their Google reviews have disappeared. This is mostly due to inactivity, however, there are other factors that influence Google's decision to remove the reviews. If this the case for you check out our helpful guide on how to keep your Google reviews and how to get them back if you've lost them.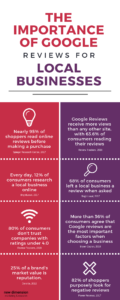 What Is
Google My Business?
Google My Business is a free tool that allows a business to create and manage a company profile as well as interact with their customers. Companies provide a variety of information on their business, such as the official website, contact information, products and services offered, operating hours, and the story of the business. This is the tool that companies use to view and respond to customer reviews.
Google My Business makes companies accessible to features such as Search, Maps, and, of course, reviews. Customers also consider companies verified through Google My Business as being more trustworthy and reputable. It is necessary for any company with an online presence.
To create an account, download the Google My Business app for iPhone or Android!
Benefits of Online Reviews
Studies from BrightLocal show that 91% of millennials trust online reviews as much as personal recommendations. So clearly, Google's ability to provide reviews from actual customers acts as a company's free credibility boost.
Research shows that an abundance of positive Google reviews, especially for unfamiliar businesses, helps increase brand trust, increase online exposure, can convert more customers, and directs more traffic to the company website. Companies with more Google business reviews are ranked higher on the SERP and are prioritized on the map pack, which we will elaborate on below.
Negative Google Reviews
Unfortunately, customers with bad experiences with the company are also more likely to leave reviews than customers with good experiences.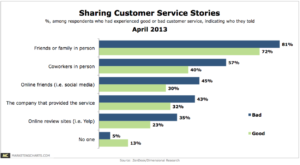 Yet, although positives are preferred, negative reviews have their benefits too. When a customer leaves a negative review of a business, the company can see the areas that they need to improve upon and can then put an effort into enhancing customer experience. New Dimension recommends responding to a bad review within days of receiving it. This is an opportunity to resolve any issues mentioned by the customer.
Not only does responding to negative Google reviews offer the opportunity for you to provide your own perspective of the matter, but it also shows the customer that you value their opinion. Furthermore, when you respond to negative reviews, you're not only speaking to that one particular customer but also other potential customers.
Google Map Reviews
As we mentioned above, one of the benefits of Google business reviews is the ability to rise through the ranks in local SEO. This is because, when your business is pulled up on a local Google search, it will be accompanied by your Google business ratings and reviews. This is often a person's first impression of a business.
See, there are two sections that show up on the local search engine results page. The first part of the SERP is occupied by the local 3-pack, or the "map pack," and the second is the organic search results. The map pack shows the top three local results under that category. A map pack would come up on a search such as, "coffee shop Encinitas."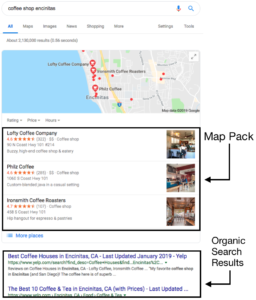 In this example, Lofty Coffee, Philz Coffee, and Ironsmith Coffee Roasters are the top-listed local coffee shops in Encinitas, California. A business is placed in Google's local 3-pack if it has services in that particular territory, has high rankings, tons of
Google Map reviews
(at least compared to other local businesses), a complete
Google My Business
page, and has SEO or PPC strategies in place that have it ranked on the first page of Google. However, out of all those factors, a business is most heavily influenced by their
Google business reviews
.
The map pack is valuable to consumers because it provides immediate options for communication: the name of the business, a link to the website, as well as the address and phone number. Along with that information, Google includes the number of Google Map reviews and the overall rating of the business, for example, a 4.3 out of 5.0.
At the end of the day, Google Business Reviews give local businesses a chance to fairly compete with, and even outshine, bigger corporations in the area without spending a dime. Although traditional SEO practices are certainly important to a company's success, investing time and effort into collecting and managing customer reviews will only benefit your business. For SEO services, both traditional and non-traditional, call New Dimension Marketing and Research or visit our website!